A man aged in his 50s has been taken to hospital in stable condition after he was involved in a head-on collision with a car while on a recreational ride with a group cyclists in Galston this afternoon.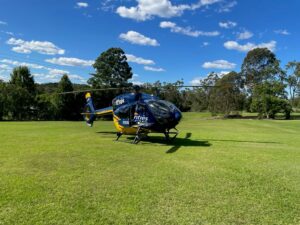 The Mounties Care CareFlight Helicopter was tasked by NSW Ambulance shortly before 1:00pm and landed in a park a few hundred metres from the scene.
NSW Ambulance paramedics worked alongside CareFlight's medical team to treat the patient. CareFlight's specialist doctor and NSW Ambulance critical care paramedic provided a clinical assessment for the man at the scene, including ultrasound.
The patient was taken in a road ambulance with ongoing treatment by CareFlight's specialist doctor to Westmead Hospital in a stable condition.
No others were injured in the incident.