Head Injury Research Trial
Head Injury Research Trial
Severe blunt traumatic brain injury is the leading cause of death in persons under 40 years of age in western societies. It is also a significant cause of long term disability.
The Head Injury Retrieval Trial (HIRT) was a clinical trial designed to test whether the delivery of trauma physician management to accident scenes would improve outcomes for head injured patients.
The model of care was tested in the Greater Sydney Area. Earlier statistical analysis showed that Sydney had twice the rate of poor outcomes for traumatic head injury compared to many European cities. Unlike Sydney at that time, these cities had a system under which a physician accesses a head-injured patient within 15 minutes of injury.
HIRT was conducted over six years from April 2005 to March 2011, gaining international interest.
CareFlight Medical Director and Chief HIRT Investigator Dr Alan Garner OAM announced the results of this ground breaking research at the 2012 International Conference for Emergency Medicine in Dublin.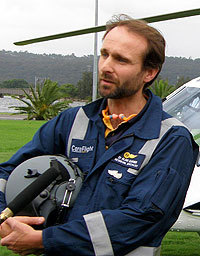 Patient Recruitment 
Over the six year period of the study, the CareFlight HIRT team responded to 1,500 patients. The majority of these patients had been involved in motor vehicle accidents, the main cause of brain injury from traumatic head injury. The study also included patients involved in falls and other injury mechanisms such as industrial accidents and assaults.
Critically ill children and children severely injured through road transport related accidents and other incidents, including drowning, were also managed by the HIRT response system. However, paediatric patients were managed outside of the trial. This means they were treated and transported by the HIRT system but not for trial data collection purposes.
Conclusion
The HIRT data indicates a 16 per cent absolute reduction in deaths (45 per cent to 29 per cent) when unconscious patients are treated by a doctor.