Book international medevac services throughout Australia and the Asia-Pacific.
For 24/7 emergency tasking and enquiries please call:
1300 655 855 (within Australia) +61  298 937 683 (outside Australia)
Book or get quote for international medevac: 
Enquire
Why use CareFlight for international medevac?
CareFlight is an integrated aeromedical retrieval organisation in Australia and the Asia Pacific region that owns and operates its own fleet of dedicated jets, turbo-prop aircraft and helicopters with in-house clinical teams to deliver an entire international medevac and domestic aeromedical retrieval service, from first call to admission at the treating hospital.
Since 1990, CareFlight has provided specialist medical teams and jet aircraft to transfer critically ill and injured patients throughout Australia, Asia and the Pacific. We can also be activated as the second leg of a mission in partnership with other jet suppliers that we work closely with for longer range retrieval missions from Europe, Asia and the Americas.
Available 24/7/365

Our international medevac capability
Locations
CareFlight provides international medical evacuation services to the following locations and more throughout the Asia Pacific region and Australia. This is a list of common retrieval locations, however CareFlight can reach many more.
Regular international medevac services to/from:
Port Moresby, Papua New Guinea
Dili, East Timor
Bali, Indonesia
Jakarta, Indonesia
Bangkok, Thailand
Kuala Lumpur, Malaysia
India
China
Taiwan
Japan
South Korea
Ho Chi Minh City, Vietnam
Phnom Penh, Cambodia
Hong Kong, SAR
Singapore
New Zealand
Manila, Philippines
Nepal
Norfolk Island
Port Vila, Vanuatu
Suva, Fiji
Apia, Samoa
Noumea, New Caledonia
Nuku'alofa, Tonga
Maldives
Guam
United States of America can be serviced via wing-to-wing transfer, commercial medical escort or in partnership with USA aeromedical jet services.
If your retrieval location is not listed, contact us here, we can help.
Clinical capability
CareFlight's international medevac jets are configured to carry CareFlight critical care nurses and a doctor, one stretchered patient and one seated patient. Patients requiring life support and ventilation are routinely and safely transported by our teams.
Our specialist clinical teams are highly skilled and are trained to work together to provide the best clinical care for our patients. Our doctors are specialists in emergency medicine, intensive care or anaesthetics. Our nurses are from intensive care and emergency departments and are aviation nursing trained.
CareFlight is a one-stop-shop aeromedical service, by using CareFlight you can rest assured that we will handle all aspects of patient retrieval. Everything is managed in-house, from staffing, crew rostering, clinical, training, aircraft operations and mission logistics. This means we can get our medical teams airborne and on the way to our patients in the shortest possible time.

Aircraft and equipment
For international operations CareFlight's fleet consists of Gulfstream G150, Beechjet 400, Learjet 45 and Citation 650 jets.
CareFlight jets can be equipped with advanced medical equipment including the Mansell Neocot, neonatal incubator and ventilator.
The Gulfstream G150 is a cutting-edge, dedicated medical jet with a high cruise speed, range and customised interior which represent a significant advancement for patient care.
The G150 allows for a diverse range of missions including multiple patient transfer (depending on patient condition), critical non-stop rapid neonatal services and aeromedical evacuations services for government agencies like the National Critical Care and Trauma Response Centre (NCCTRC) and the Australian Defence Force (ADF).
Clinical medical escorts
CareFlight also provides clinical medical escorts on scheduled commercial long-haul flights when this is deemed to be the most appropriate way to transport a patient for medical treatment. When this is the preferred option, CareFlight can arrange clinical medical escorts to accompany patients and their carers home or to another hospital.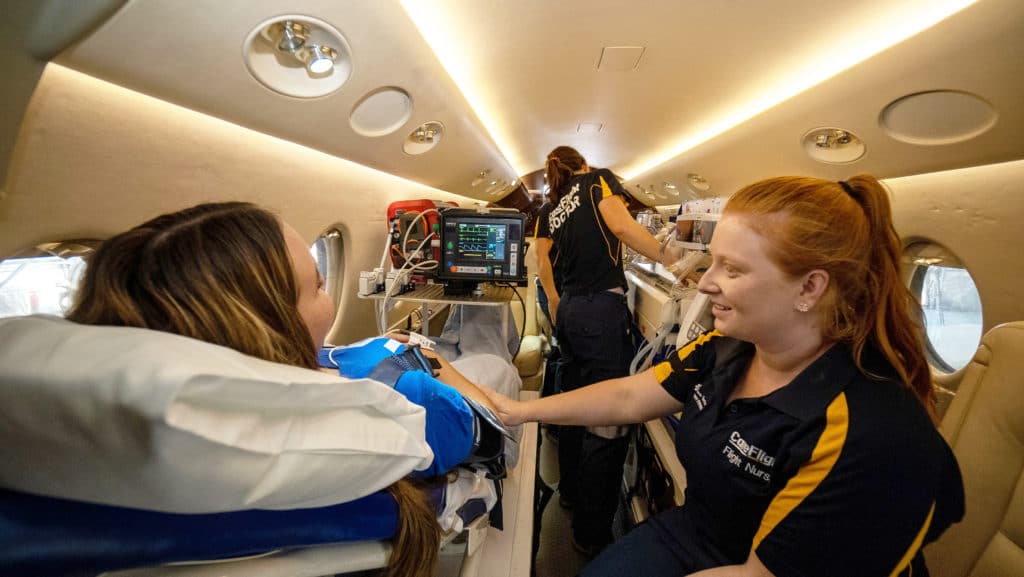 Our specialist doctors and nurses have transported patients to and from the USA, Europe and Asia via commercial flights, the longest of which took six days to complete.  We place additional crew members at stopover points to ensure continuity of clinical care, and patients requiring life support and ventilation are routinely and safely transported by our teams.
Our experienced centralised logistics coordinators are available 24 hours a day, seven days a week to answer questions on clinical medical escorts and provide support every step of the way.
Demonstrated international medevac experience
CareFlight has completed a diverse range of missions for government agencies like the Australian National Critical Care and Trauma Response Centre (NCCTRC) and the Australian Defence Force (ADF), global assistance organisations and travel insurance companies around the world.  
CareFlight also delivers aeromedical evacuation services to Energy and Resource sector companies, the Australian Defence Force and others.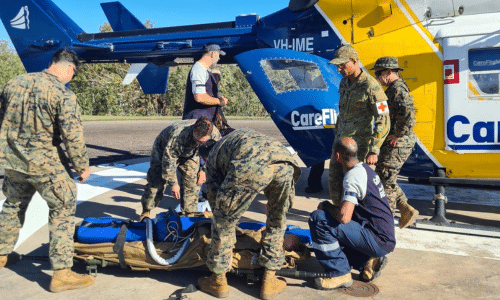 Trusted International Medevac networks
CareFlight is an Accredited Service Provider of International Assistance Group. The International Assistance Group (IAG) is the world's largest alliance of independent global medical assistance companies, service providers and correspondents.
IAG partners are hand-picked based on their solid experience in their respective regions and proven track record of quality and reliability in air ambulance and medevac services. As a partner of IAG, we've got the global reach and the local know-how to intervene quickly and effectively wherever you are. Enquire below so we can talk about your specific needs.

For non urgent enquiries, contact us here: