CareFlight's commitment to excellence and leadership in pre-hospital and critical care is far reaching and goes beyond training our own people. 
 Our highly experienced education team comprises of specialist doctors, nurses, paramedics and rescue staff. Our courses include content on Pre-Hospital Trauma, Cardiopulmonary Resuscitation, Aeromedical Retrieval Training, Tactical & Hostile Response, Emergency Access & Treatment, and Remote Emergency & Critical Care Trauma. 
Clinical training at CareFlight centres around initial induction in pre-hospital, retrieval and patient transport, ongoing maintenance of skills and knowledge, as well as providing updates in the latest evidence-based medicine. We provide clinical training for our registrars, nurses, midwives and patient transport officers. 
CareFlight also offers a range of external training for doctors, paramedics and nurses, as well as final year students in these fields wanting to expand their knowledge and competency in pre-hospital medicine. Our courses are all evidence and simulation-based using immersive equipment like crashed vehicles, helicopter simulators, lifelike mannequins and sensory triggers such as sound, smell, and blood products to recreate trauma scenes. 
"The feedback from students undertaking our training is that it significantly develops their understanding of the challenges of working in the pre-hospital setting and grows their skills in learning to "speak the language" of other professional teams to work cohesively and efficiently to ensure the best outcomes for their patients."

 

– Dr Samantha Bendall, Director of Education
Pre-Hospital Trauma Course (PHTC)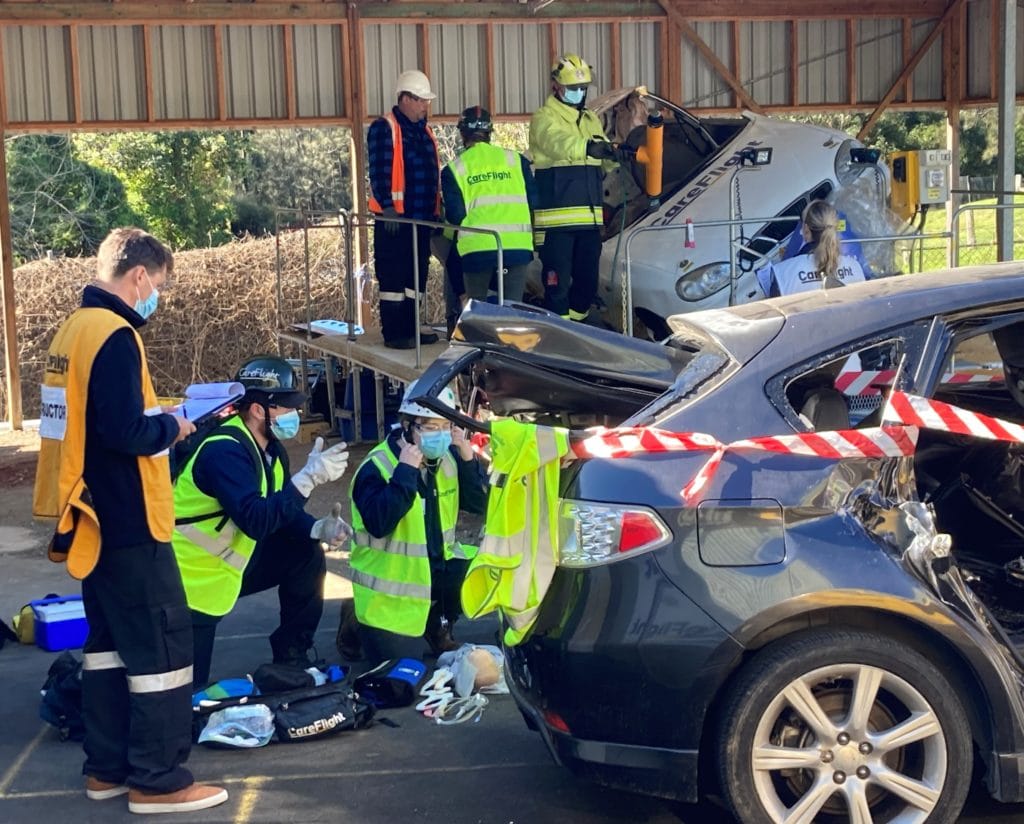 For the past decade CareFlight have been delivering with excellence a highly specialised, evidence based, practical pre-hospital trauma care course for those who want to enhance their skills in pre-hospital medicine.
Over two-and-a-half days, participants cover the technical skills, knowledge and critical decision-making required to perform effectively as a clinician in the pre-hospital environment. It also includes honing teamwork, communication, and other non-technical skills in a high-pressure environment.
PHTC is taught by a faculty of senior, experienced, multi-disciplinary doctors, paramedics, nurses, and fire and rescue instructors, representative of teams at a trauma scene. The course is suited to any clinician (doctor, nurse, paramedic, medic, as well as final year students in these fields) wanting to learn more about pre-hospital medicine.
Course content includes:
Teamwork, communication, and other non-technical skills
Pre-hospital skills – for example haemorrhage control, splinting, surgical airways, management of chest trauma
Initial assessment in the pre-hospital setting
Pre-hospital airway management
Trauma systems
High fidelity, immersive scenarios
And more ….
CareFlight Aeromedical Retrieval Training (CART)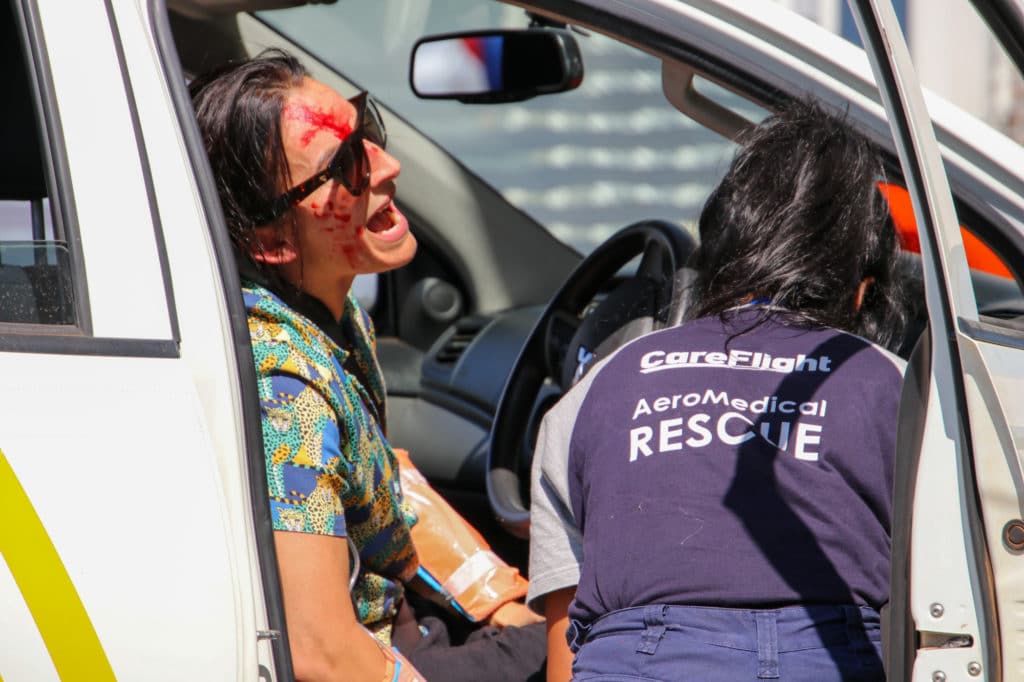 CareFlight's Aeromedical Retrieval Training (CART) is an introductory course specifically designed for doctors, nurses and paramedics (including students) who are new to aeromedical work or are interested in pursuing a career in the aeromedical field and want to learn more about it.
The course is comprised of a mix of lectures, clinical workshops and immersive scenarios designed to help clinicians understand the unique challenges of working in this area. The scenarios are high fidelity, using simulators as well as real vehicles. There is a strong focus on teamwork and non-technical skills. Working in multidisciplinary groups also provides participants with the opportunity to learn from different skillsets.
Course instructors are all experienced retrieval clinicians and include retrieval specialists, intensive care and helicopter paramedics and critical care flight nurses. With a high instructor-to-student ratio, participants will have the opportunity to learn in a true multidisciplinary environment.
Bespoke training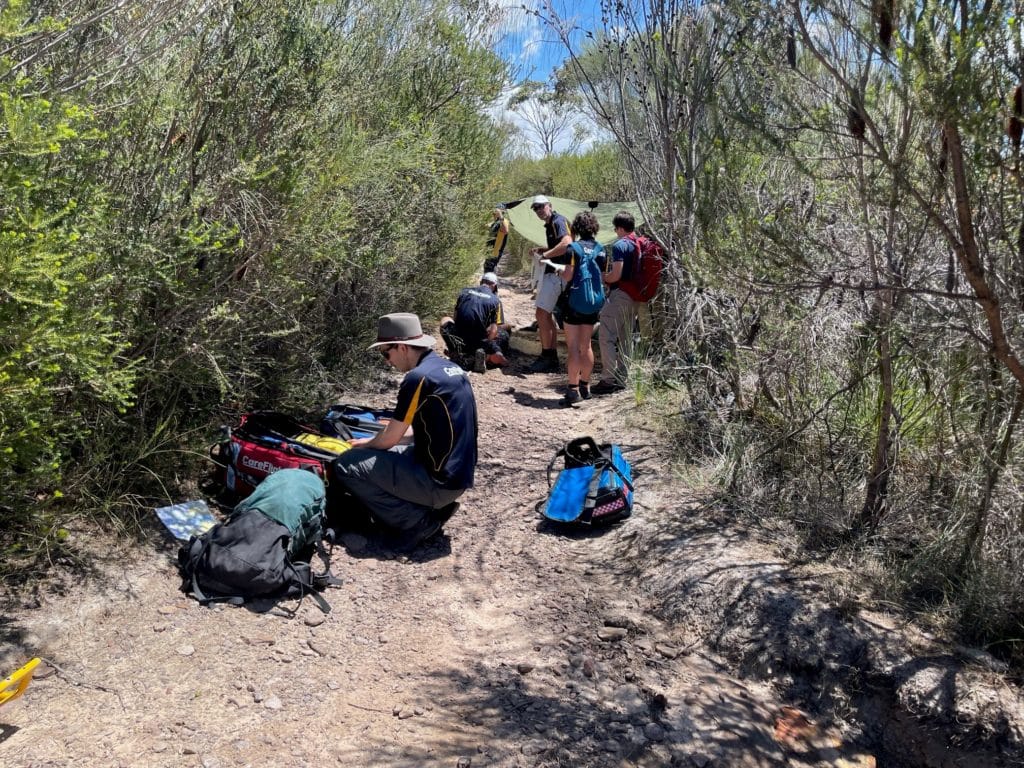 From high fidelity pre-hospital and critical care training with the Australian Defence Force, to teamwork and leadership behaviour simulation-based training for non-medical industries such as construction and the transport industry, we have the experience and expertise to be able to design a course to meet your needs. We are able to deliver bespoke courses nationally and internationally.
Like more information?
Enquire directly about our available courses, including pre-hospital, advanced clinical training, first aid and trauma care workshops for emergency first responders.
Reach out to our team today
CareFlight recruits and trains critical care specialists and critical care registrars for our aeromedical operations in both NSW and the NT.
Arrow
CareFlight employs nurses and midwives to work as part of an integrated aeromedical crew across a variety of transport platforms.
Arrow
Get in touch with us
Enquire directly about our available courses below. Please fill in the form indicating the courses you would like further information about.