CareFlight trauma training helps Marine Rescue volunteer save two stranded sailors
CareFlight trauma training helps Marine Rescue volunteer save two stranded sailors
08/06/2023

–

Education
Much of the work CareFlight does in the educational space is invisible until the worst case scenario. Emergency trauma care training empowers first responders and community leaders to act in case of emergencies – and we hope those moments never have to come, but we are ready if they do.
We were recently nominated in the Not For Profit Leadership Awards for our efforts in education in our Trauma Care Workshops, but it is moments like this that make our work feel most worthwhile – when the possibility of danger is high, but the efforts of brave Australian first responders in those critical moments can save lives and prevent further injury.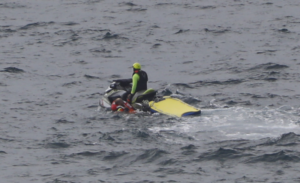 Lake Macquarie Marine Rescue volunteer Matthew Dorhauer took on CareFlight TCW training earlier this year and used that training in a recent rescue near Moon Island. Two men in a boat lost power and capsized near the rocks, needing a speedy rescue to avoid being injured, and Matt was up to the challenge. In difficult conditions, choppy surf and big waves, Matt had to think carefully about his jetski approach or worry about becoming a victim himself, as rescues involving water can have a risk of danger from those being pulled aboard. The potential of being pulled under by the weight and panic of the rescued sailor was high.
"The CareFlight educator said something I used in the rescue – the 3 most important people in a rescue are you, you, and you. Do not risk your safety. Think about the risks." In the moment, Matt's ability to check on the sailors' state and change up the way he approached them allowed the rescue to go off without a hitch. Assessing the rescue's parameters also required a constantly changing point of view, and another TCW skill allowed Matt to adjust his plans on the go to provide the best rescue possible. "We learned that rescue situations can change. Be prepared to re-evaluate and adapt." Matt had already received extensive training on trauma rescue from Marine Rescue NSW, but getting additional CareFlight trauma training added finer points onto that already sharp knowledge.
"Hearing from the CareFlight team about their personal experiences in trauma care really expanded my knowledge. Any first responder would benefit from the Trauma Care Workshop," said Matt.