CareFlight's first helicopter pilot shares his story
CareFlight's first helicopter pilot shares his story
17/03/2021

–

Staff stories
John Hoad is one of CareFlight's co-founders and first helicopter pilot. At the age of 26, John took a leap of faith, left his job as a senior radiographer at one of Sydney's major teaching hospitals, and embarked on a journey which has seen him become CareFlight's longest serving helicopter pilot. John writes about his journey with CareFlight, which commenced in 1986.
I always wanted to be a pilot, but life has a way of pushing you in a different direction to your dreams which is how I found myself in my first profession, as a radiographer.
I had tried. After finishing school, I applied to join the Australian Defence Force as a trainee pilot. Positions like these were highly competitive and when I wasn't accepted, I needed to decide on an alternative career path.
I studied to become a radiographer and when I started working at Westmead Hospital found that I excelled in my role. In my first year qualified, I was promoted to senior radiographer in charge of tomography and was responsible for managing the three x-ray rooms and staff dedicated to this specialisation.
Even though I enjoyed my job, my dream of flying never disappeared. By chance, an opportunity to go for a ride with a television station helicopter pilot presented itself and in the very first moment the helicopter lifted off the ground, I realised I had to pursue my dream.
My first hurdle was a financial one. Training to become a commercial pilot is expensive so I sold my house to fund my career change. I then gave up my job at Westmead Hospital which drew some rather strong criticism from work colleagues and family. But I knew I had to take a leap of faith to pursue the career I knew was the right one for me.
Becoming a pilot 
The easy part was getting my licence to fly. The hard part was getting a job.  High insurance rates meant that companies weren't prepared to hire inexperienced pilots. So, I headed to the outback where I worked for two years mustering cattle. In my first year, I flew over 1000 hours in a Bell 47 which was the typical helicopter used for this type of work.
After that, I worked in Papua New Guinea where I mainly did sling load work which essentially means carrying large of loads of equipment under the helicopter. This work fine-tuned my skills at precision hovering which was excellent preparation for my next job with Westpac Rescue.
Co-founding CareFlight 
I left Westpac Rescue to start CareFlight with a team who believed that we could provide an integrated service comprised of people across disciplines. Having worked in hospitals, I had a thorough understanding of how they work and it was obvious to me that by integrating aviation and medicine, we could achieve something much greater than what was on offer at the time.
It was an extraordinary effort which probably wouldn't be possible today. We identified the key elements needed to get the service up and running and allocated the best people to make it happen. The team's commitment to establishing CareFlight was phenomenal:  we went from nothing to being operational in four months.
Establishing CareFlight was another leap of faith for me and the second time I left my job for a dream I believed in.
People are often surprised at my two seemingly different careers. Whilst at first glance they may seem quite different, I have found that the personal attributes I developed as a radiographer made my transition to a pilot attending trauma scenes, much easier. As a hospital radiographer you deal with people who are in pain especially trauma patients who need access to x-rays and imaging almost immediately upon arrival at hospital.
Dealing with patients who are in pain is not an easy thing to do. However, having already worked with trauma patients, gave me an advantage in aeromedical missions where we attend patients at the scene of trauma. The fact that I had been exposed to this early in my career meant I had coping strategies in place to help me deal with this aspect of my work.
At the same time, it gave me an appreciation of the importance of having the right medical team consisting of a highly experienced paramedic and doctor. Equally important is that the doctors employed by CareFlight needed to be, not only highly experienced, but also from specific medical specialties. You must have the right team if you are working with the most serious and critical patients.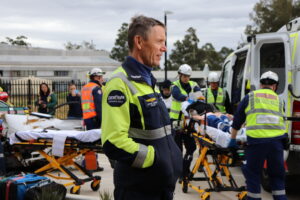 Our helicopters
We acquired our first helicopter: a Squirrel AS350B, a single-engine helicopter which allowed us to fly under visual flight rules (VFR) only. This meant that we could only fly in certain conditions so if the weather was bad, we couldn't carry out any missions. It was frustrating but it was the best helicopter we could afford at the time.
In 1988, two years after we commenced operations, we upgraded our helicopter to the Dauphin SA 365C2 which was a twin-engine helicopter capable of flying under instrument flight rules (IFR). This meant that we then had a greater capability of flying in weather conditions which previously would have kept us grounded. Our lifesaving capabilities increased significantly with the Dauphin.
There were limitations with this helicopter though. The Dauphin had basic autopilot capacity which meant a high cognitive workload for the pilot. It also had a maximum of two and a half hours of flying time due to the need to refuel. This is because for IFR flying you need to have larger fuel reserve than flying under VFR conditions. That is, you must always land with fixed reserve in your tanks.
The Dauphin was a good helicopter for the time, but technologies change and since starting CareFlight I've flown six different helicopters. The most recent, and definitely the most exciting addition to CareFlight's fleet is the Airbus H145. The advanced cockpit, autopilot and avionics are state-of-the-art and make this helicopter one of the most advanced aeromedical helicopters operating in Australia.
The purchase of this helicopter means that CareFlight continues to be at the forefront of aeromedical and aviation technology. We've always invested in the best technologies for our patients which is why the purchase of the H145 this year will play an integral role in our ongoing mission to save lives.
In 1986, I took a leap of faith to be part of the team to start CareFlight and it was definitely worth it. Here I am 35 years later, still flying for CareFlight and still loving the organisation I co-founded.