CareFlight's response to COVID-19 in NSW
CareFlight's response to COVID-19 in NSW
27/08/2021

–

News
In what has been a devastating week for New South Wales, CareFlight's crew are encouraged by what has been an unprecedented collective effort to protect lives during the unfolding COVID-19 crisis.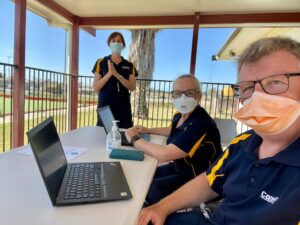 Over the past week, clinical CareFlight staff have been part of a busy multi-disciplinary health team helping the vulnerable communities in far west New South Wales.
The team is helping vaccinate the community and protect them against COVID-19 as part of the Australian Medical Assistance Team (AUSMAT) in a highly coordinated joint response, along with numerous government and health agencies. From conducting door-to-door vaccinations to performing hospital-in-home care for dozens of residents who have tested positive for COVID-19, CareFlight's nurses and operational crew have been on the road for weeks away from their loved ones to help vulnerable Australians.
The team will continue this crisis response in coming weeks, moving to assist remote communities in the west and far west of NSW as is needed.
We thank the community and all involved who are doing a tremendous job in the battle against this outbreak. Well done to the team and thank you for carrying our mission of saving lives and serving the community to more Australians.