Congratulations Dr Ruth!
10/08/2021

–

Staff stories
CareFlight is proud to see our very own Deputy Medical Director – Rapid Response Service, Dr Ruth Parsell, announced as a Westfield Parramatta Local Hero!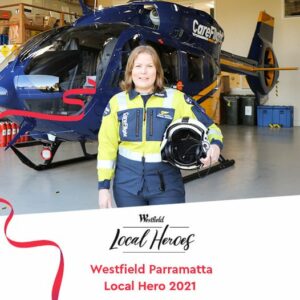 Dr Ruth is recognised for flying to the rescue and providing lifesaving care for critically ill and injured people in Sydney and beyond. In three words, Dr Ruth is a Dedicated, Passionate and Empowering CareFlighter who flies to the rescue to save lives, and is an incredible role model who proves women can combine raising a family all the while managing a challenging career in aeromedicine.
Dr Ruth says: "I hope the nomination raises awareness of what we do. It certainly motivates me to continue to train hard to be better, undertake research projects and train others in our field.
"It is so rewarding to see people who are so unwell go on to return to their loved ones and their usual activities."
Thanks to Westfield Parramatta, CareFlight is awarded a $10,000 grant to fund the purchase of a 3D printer and portable ultrasound device.
Westfield Local Heroes are voted for by their communities, with finalists each awarded a grant.