My experience in trauma training
My experience in trauma training
Staff stories
By Mick Frewen, CareFlight Chief Executive Officer
As the CEO of CareFlight, I've had the pleasure of watching the organisation diversify, not only in terms of our people and operational units, but also in our service to the community. CareFlight's core mission revolves around saving lives, speeding recovery and serving the community. We are an organisation driven by our social purpose; a commitment to delivering a positive social impact.
While our rescue helicopters in Sydney and Darwin usually take the limelight as examples of our social impact, more Australians need to know about the amazing work that our education and training team does closer to the ground and in communities around Australia.
Programs like CareFlight's MediSim advanced trauma care workshops provide volunteers with the necessary medical skills to respond to a trauma and apply life-saving techniques to a patient before ambulance services arrive. As a charity, CareFlight significantly invests in MediSim with the support of donations from businesses, allowing us to provide the workshops at no cost to participants.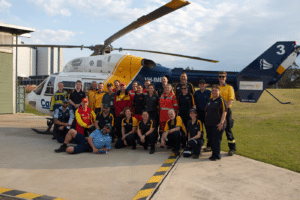 Health services in rural and regional Australia can be stretched in emergencies and often, the first people to arrive at the scene of a serious incident are local rescue volunteers. The MediSim workshops travel around the country, bringing this incredibly important pre-hospital trauma training to first responders in remote communities around Australia. First responders need these advanced skills so that they can help them save a life in those crucial first five, ten or 20 minutes after an incident.
By taking the MediSim training to communities, we are able to deliver our social purpose to thousands of people and build resilience in local communities by upskilling locals with the critical care techniques to grow their confidence. As a result, CareFlight's doctors, paramedics and nurses can help save more lives by educating more and more people around the country, improving a patient's health outcome regardless of where they are, by building a strong chain of survival.
I had the pleasure of being a student on one of the trauma care workshops recently, and despite coming from a military background, I can honestly report that I learnt things that I had never touched before in my extensive career.
It was great to see so many volunteers from various organisations come together to learn advanced trauma care skills. We had participants from Surf Life Saving Australia, St John Ambulance, NSW Police and Airservices Australia. It was also fantastic to interact with members from nine SES and seven NSW Rural Fire Service units who gathered from the Greater Sydney region to attend the workshop.
As it was my first time participating in a MediSim workshop, I was thoroughly impressed by how much planning and detail goes into delivering each of the courses. CareFlight's team of educators, which is made up of highly experienced professional emergency specialists including doctors, nurses and intensive care paramedics, took the class through the theory, while explaining the rationale and drawing on their personal trauma care experiences in a way that was very easy to understand and emphasised each lesson for the students to take away.
Once we understood the key learnings, it was time to be put through our paces with some highly realistic simulations. We were confronted with scenarios that involved arterial blood flowing from open wounds, simulated adults trapped in a rolled-over car, a child (mannequin) trapped under a pile of wreckage, and simulated wounds on limbs designed for practicing dressings. All while dealing with the simulated sounds and stresses of an accident scene.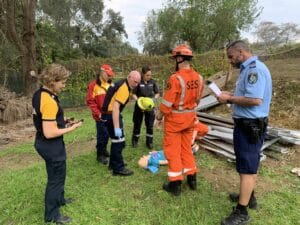 My fellow participants and I navigated through the trauma scenarios so that we can now more confidently respond to incidents like crush and chainsaw injuries, multi-vehicle accidents, haemorrhage management, serious burns and mass-casualty incidents. I have to say that the key highlight from the day for me was how seamlessly we worked as a team despite being such a diverse range of individuals from multiple agencies.
Chatting with everyone in the workshop, I was pleased to hear the overwhelmingly positive feedback. Personally, I found MediSim to be a remarkable course that justifiably earns its reputation as a leader in trauma training. It was an absolute pleasure to see CareFlight's educators expertly delivering our mission of saving lives, speeding recovery and serving the community.
If you are looking to take your first aid qualifications another step further, then I highly recommend our MediSim advanced trauma care workshops. They are guaranteed to stretch your skills and increase your knowledge of pre-hospital trauma care.