Reconciliation at CareFlight – A message from our CEO
Reconciliation at CareFlight – A message from our CEO
14/09/2020

–

Staff stories
By Mick Frewen, CareFlight Chief Executive Officer
For me personally, reconciliation is about ensuring that I can build relationships in order to develop my own knowledge and experience with Aboriginal and Torres Strait Islander people and learn from their rich history and knowledge.
Professionally, in my role as CEO of CareFlight, I view reconciliation an essential part of the organisation. CareFlight is a charity focused on saving lives and serving the community.  In the Top End, that community is largely our traditional owners living in regional and remote communities. It is absolutely essential that our staff have awareness of how to interact in a culturally appropriate way, that they have a very good understanding of what needs to be done to close the gap on healthcare, and that both as an organisation and as individuals we are ensuring that we all focus toward meeting the intent of reconciliation in our everyday work.  Our Reconciliation Action Plan provides the structure to help us achieve this.
We started on our reconciliation journey by developing and implementing the Reflect Plan, this allowed us to better understand what we want to achieve and how to get there. I think the most pleasing achievement CareFlight has had, is to positively engage with communities to better understand the type of support they might need from CareFlight but importantly how CareFlight should deliver this.  I think we have built some very good relationships that will help us to more effectively deliver our social purpose in support of communities, and programs like Sick and Injured Kids in the Bush are a great reflection of this.
As we progress our Innovate RAP, the most important aspect for me is ensuring we continue to develop our relationships with communities and organisations, as they will be critical to helping us develop the right strategies that further empower Aboriginal and Torres Strait Islander people.  As an organisation we are committed to building career pathways and providing opportunities to work as CareFlighters. We are also very committed to ensure any opportunities to partner with Aboriginal and Torres Strait owned businesses are prioritised to ensure we are empowering growth in ownership of successful businesses.
I would hope that all CareFlight staff fully embrace the importance of our RAP, and that they ensure that in delivering their everyday work and when making decisions, they are doing so with an eye to how can we ensure we are engaging and empowering Aboriginal and Torres Strait communities.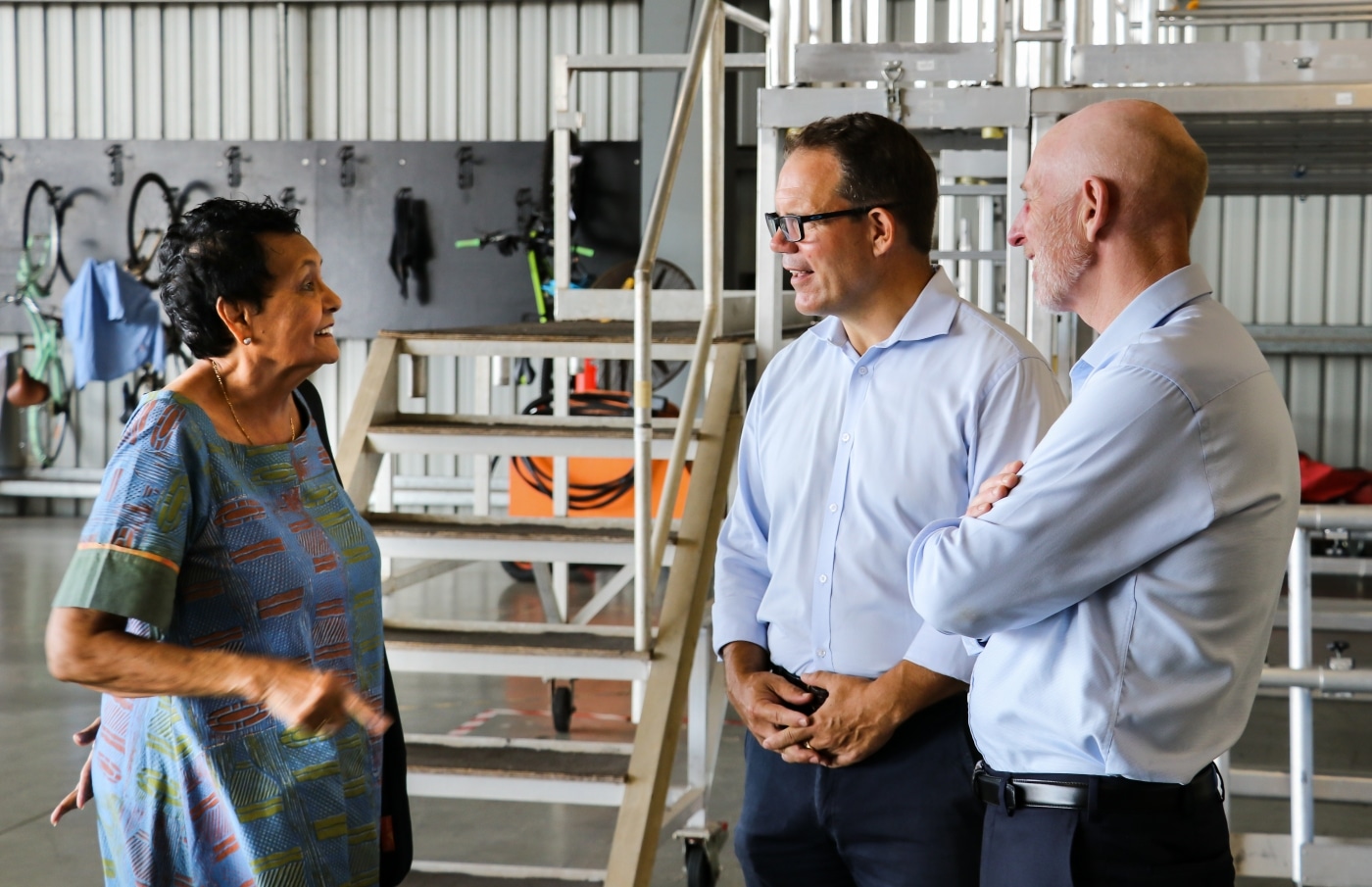 Former CareFlight Director Trish Angus with CEO Mick Frewen and Member for Solomon Luke Gosling.