Tanesha reaches for the skies with CareFlight – Viva Energy sponsors First Nations Traineeships
Tanesha reaches for the skies with CareFlight – Viva Energy sponsors First Nations Traineeships
10/07/2022

–

News
For many high school graduates, the real world of entering the workforce can sometimes be a daunting and challenging experience.
For CareFlight's rising star Tanesha Graham, it was the ad for a traineeship position with CareFlight that caught her eye just after finishing year 12 in 2020.
Even if there was slight trepidation in carving out the career path Tanesha wanted to take, the appeal of on-the-job training, combined with an opportunity to complete a Certificate III in Business and gain skills in fundraising and marketing was the driver for Tanesha to take the big leap and apply for CareFlight's Trainee Program.
Fast forward to 2022, and with the recently announced expanded partnership between Viva Energy Australia and CareFlight in funding to support First Nations Trainees, we chat with Tanesha as she reflects on her time in the traineeship program, what NAIDOC Week means to her and her new role as Education Administrator Coordinator in the Education and Training Team.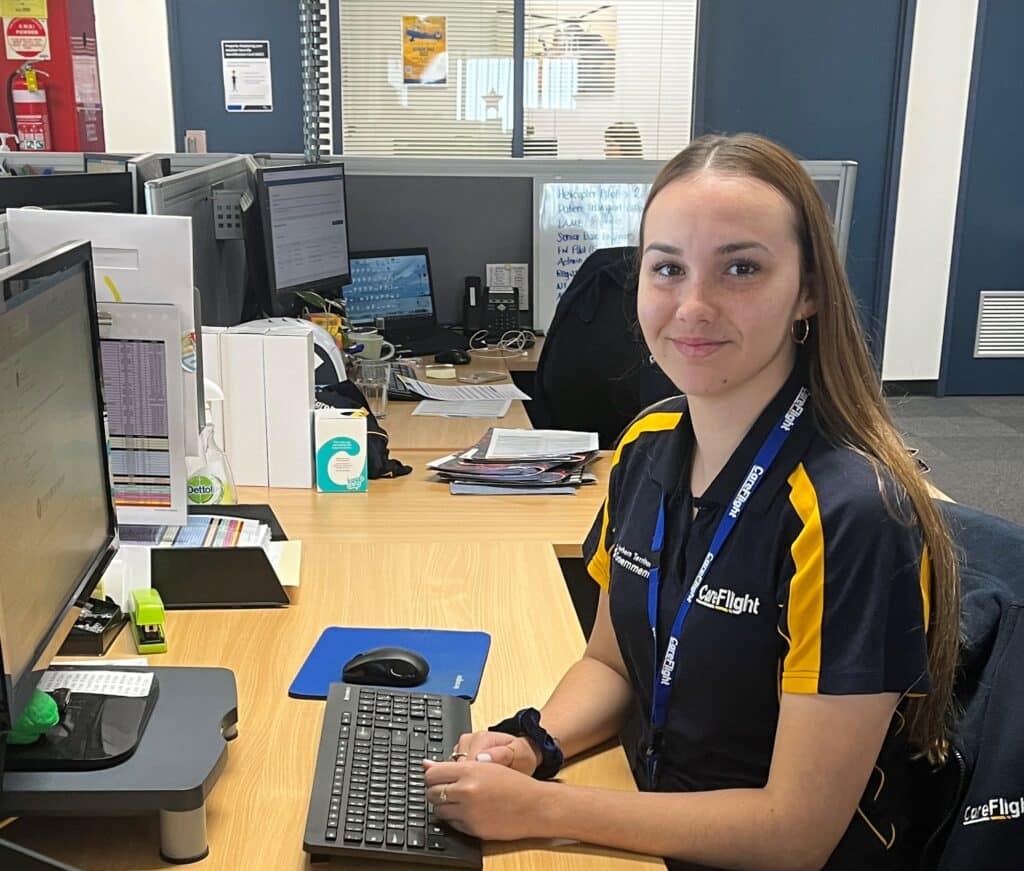 How long have you been working at CareFlight and describe your journey to date?
I have now been working at CareFlight for almost two years and my journey has been great – I have learnt so much and I am very grateful for the support that CareFlight provides.
Coming straight from school and going into a professional workplace was challenging. There were times that I struggled with my study, workload and learning a heap of new things, but I have always had so much support which helped me to complete my Certificate III. After completing the course, I took on the offer to start a Certificate IV in Business and I'm glad to say that I have almost completed that too.
Last month, I saw an opportunity for the  Community Education Coordinator position at CareFlight – applied for it and I was successful in gaining the role!
Congratulations Tanesha! Sounds like you're flying high with CareFlight. What do you enjoy the most about CareFlight?
It's a great place to work and I really enjoy working at CareFlight. It's amazing how we have such a diverse team who all work together. CareFlight is made up of many different roles (pilots, nurses, doctors, engineers, business, fundraising, media and marketing to name a few). You can learn so much at CareFlight and work with great people.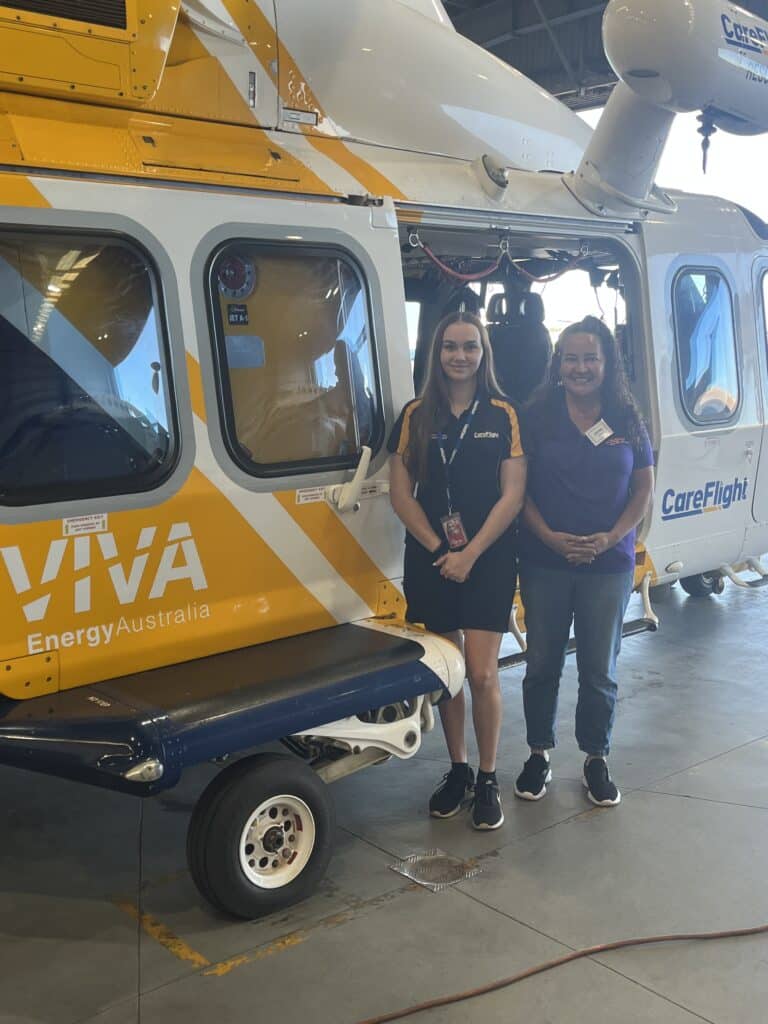 Tell us about the support you have received through Indigenous Youth Mobility Program (IYMP) and how that has made a difference?
Throughout my traineeship I had support from IYMP. We had fortnightly meetings to see how I was going, if I needed any support and to discuss any issues I had. Kylie (support worker from IYMP) was a great mentor to me. She really helped me believe in myself and gave me all the support I needed. Kylie was always only a phone call away and was happy to help in any way needed. If I didn't have the support from IYMP, I would have struggled a lot.
Do you have any highlights/memorable times?
I remember when I first started working at CareFlight, I was so nervous. Now, I look back and I am very proud of myself and what I have achieved.
My most memorable time would be my first ride along in the CareFlight plane. I don't fly much so I was very scared. We flew to Maningrida to pick up two patients. It was a great trip and I enjoyed it a lot. I got to see how what the nurses do and how the missions run.
What are you doing now and where do you see yourself in the next couple of years?
I am now in my new role as the Education Coordinator at CareFlight. I coordinate all the Community Education, including remote trauma courses/trauma care workshops. I also go along to the workshops as a loggie (logistician). I really enjoy my new role as it keeps me busy and I'm always going out to different communities to assist with delivering these workshops. I would like to continue my career at CareFlight and keep building up my skills and confidence.
Who has been a big influence in your life in motivating you to take up this opportunity?
My mum is my biggest supporter. She played a huge role in supporting and guiding me throughout my career. She is the one I turn to for advice or if I need assistance. She is always motivating me to do better and and is there to help me along the way. Mum is the one who encouraged me to apply for the Traineeship at CareFlight. She is very happy and proud of me for completing two certificates and gaining the roles at CareFlight.
My nanna was also a huge support in my life. She was a mentor to my whole family. Nanna would help me with all of my study. We would sit up late nights going through questions from my workbook. It always ended in me getting frustrated with the workbooks, but she would just sit back and laugh. She made sure I got it done that night and I felt much better about getting it done.
Nanna definitely gave me the confidence to complete school and move into a great career. Sadly, she passed last month. She left me a letter that said: "Keep pushing to do better! I know your career will be great. I'm so proud of you, my girl."
These words will stick with me forever.
What does NAIDOC Week mean to you?
NAIDOC Week to me is the one week of the year where we as a Nation get to celebrate our Aboriginal and Torres Strait Islander culture and celebrate all that we have achieved.
What will the Viva Energy partnership open up, in terms of creating pathways for other young First Nations people?
The Viva Energy partnership will provide First Nations people with a high level of skill and an opportunity for a long term career. I am very grateful for the opportunity I had!
I'm sure more positions like mine would help more First Nation's people in their career.
The Indigenous Youth Mobility Program (IYMP) 
The IYMP has been integral to the delivery of our trainee program and also supports our two Frist Nations Engineering apprentices.
Kylie Rautoka, IYMP Coordinator has worked with our First Nations team members and provided the following insights on her time working with Tanesha reach her goals.
I first met Tanesha when she joined IYMP Darwin in January 2021, after CareFlight's Community Engagement Manager reached out to us. Tanesha has come such a long way and continues to work towards her goals with admirable resolve.
Throughout this time, I have watched Tanesha's confidence within herself, and her learning and work capabilities grow immensely. She is well organised and diligent when it comes to her studies and as a result, Tanesha achieved her Certificate III in Business earlier than anticipated. This accomplishment is a source of motivation for Tanesha and spurred her on to continue to further her studies. She commenced her Certificate IV at the end of last year, which she is so close to completing! Tanesha's determination and hard work is not only evident through her studies but also her attitude and pride in her role.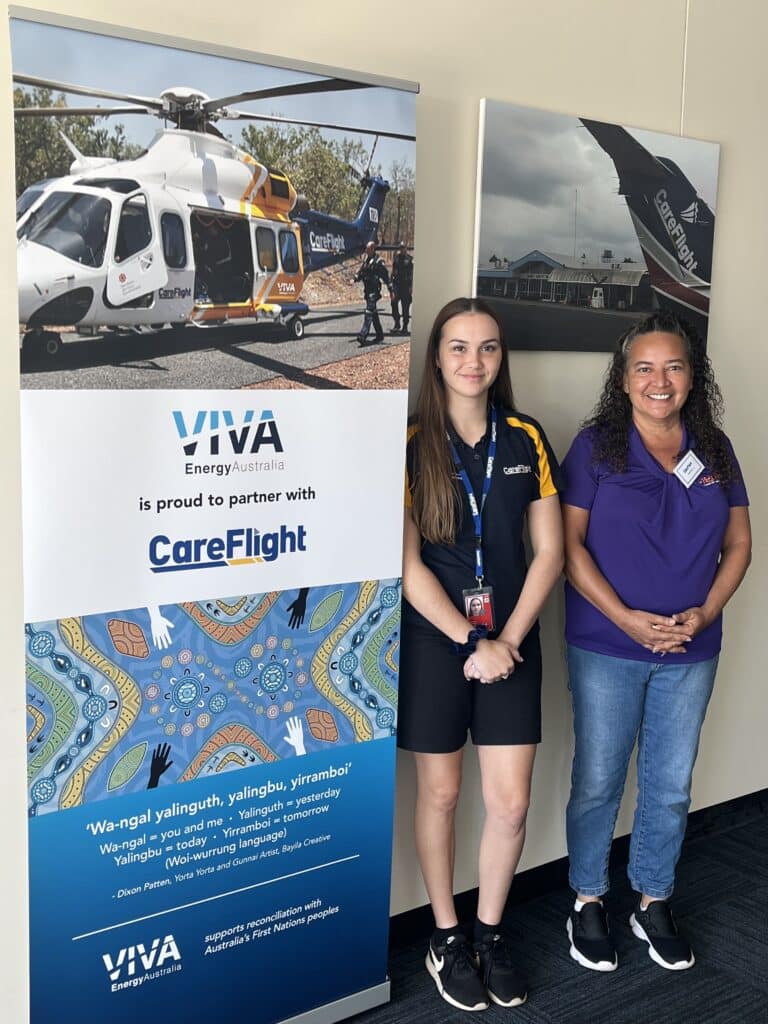 How has IYMP supported Tanesha? 
After meeting with Tanesha and completing a Training Plan, we explained what our program offered: accommodation, tutors, a laptop to keep, driving lessons and fortnightly workplace visits. We also provide support with financial literacy and general life skills, such as cooking, cleaning, time management, communication, and conflict resolution. We aim to offer a high level of support whilst also developing students' independence and self-determination. These supports, along with Tanesha's positive attitude and resilience, have contributed to her success in her work and study life. It has been a privilege to support Tanesha's journey and watch her immense growth throughout this time.
What is the work environment like at CareFlight for Tanesha? 
CareFlight has offered a caring, supportive, culturally responsive, and high expectation workplace that has helped Tanesha to thrive. This support has in turn increased her confidence within herself, her abilities, and her long-term goals. IYMP Darwin is extremely grateful for the support that Tanesha has received and for their partnership with CareFlight.
Background
Viva Energy Australia and CareFlight took another significant step in their respective reconciliation journeys with the announcement last month of an enhanced partnership.
Viva and CareFlight have already enjoyed a long-term commercial relationship. The next phase of the partnership builds on the support Viva has provided to CareFlight as its principal fuel supplier for its fleet of over 15 aircraft.
Viva prides itself on helping Australians reach their destination. Viva supports communities and industries that are integral to the Northern Territory economy and its future prospects for development.
Similarly, aeromedical services, including medical rescue helicopters, represent one of the 'critical enablers' of economic and social infrastructure to drive development across the Territory. It enables organisations undertaking this development to ensure their teams are safe.
A key component of reconciliation is timely access to quality health services based on need regardless of where people live.
This is imperative in CareFlight's mission to save lives and speed recovery given that around 90 per cent of its retrievals in the Northern Territory are First Nations people from remote communities.
CareFlight is committed to providing that access to quality care in a patient-centred and culturally safe way.
We know that our two organisations already work together well. We share knowledge of the landscape and environments we work in and the challenges we face across Australia.
Viva's $3 million commitment supports the  Darwin based CareFlight medical rescue helicopter to continue to fly to the rescue and deliver emergency health care and retrieval across the Top End of  the NT.
Viva's partnership with CareFlight will support:
Delivery of a Pathways to Employment program to provide work experience, scholarships and traineeships for First Nations and rural and remote young people.
Develop appropriate resources to communicate effectively in-language with CareFlight patients and receive feedback to support culturally safe clinical care, and
Develop Emergency Response Plans for emerging small and medium First Nations businesses, allowing these businesses to tender for larger contracts.
Viva Energy is all about helping people reach their destination.
Through our new partnership with CareFlight we will be assisting people not only in their hour of need but also developing nurses, pilots, engineers and other operational roles for the future. A worthy destination!