Baby Emergency Course takes off with CareFlight nationwide thanks to funding from Nurofen for Children
Baby Emergency Course takes off with CareFlight nationwide thanks to funding from Nurofen for Children
20/04/2023

–

Education, News
Aussie parents with children under the age of six can now access emergency training from CareFlight, thanks to a cash injection from Nurofen for Children, which in 2023 is supporting CareFlight to buy training equipment and set up infrastructure for the new and affordable family course.
The CareFlight Baby Emergency Course rolls out nationally from June to support parents facing a skills gap when it comes to high-stress and emergency situations for children such as fever, choking and performing CPR. The course is designed for parents and carers of infants, toddlers and pre-schoolers across.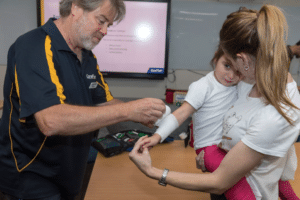 CareFlight identified the vital need for the new course following more than 35 years' experience responding to emergencies.
As critical emergency responders, CareFlight pilots reach, transport and get expert carers to more than 8,500 patients each year – many of whom are children – and experience firsthand the impact emergency training can have on the outcome of a medical event or injury.
CareFlight Chief Executive Officer Mick Frewen says CareFlight has a long history of not only training our own team, but also supporting first responders in communities around Australia.
"The new Baby Emergency Course will allow CareFlight to equip yet another group in the community with the skills to save lives. As a for-purpose organisation, all income from the course will be reinvested back into our operations, helping CareFlight to continue to deliver lifesaving services for the community."
Understanding that emergencies come in a variety of forms, from managing fever in children, to choking and performing CPR, Holly McCarthy, Marketing Director ANZ at Nurofen for Children's parent company, Reckitt, says the team is proud to once again put their support behind a CareFlight initiative that will save lives.
"In this second year of partnership with CareFlight, we're excited to help build the confidence of Australian parents and carers in those high-stress scenarios we all hope never to be in, but should be prepared for, whether that's managing fever and pain in your child, or performing CPR", she says.
"Our research found that almost half (47%) of all Aussie parents aren't confident in their management of fever in children. Supporting the national roll-out of CareFlight's Baby Emergency Course is our direct response to help build that resiliency in parents and carers to protect their little ones when they need it most." concludes Ms McCarthy.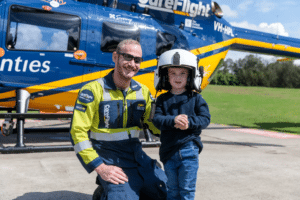 The Baby Emergency Course by CareFlight, supported by Nurofen for Children, will run from June 2023 to February 2024, and is available nationally in each capital city of each state or territory, making emergency education more accessible for parents and carers of infants, toddlers, and pre-schoolers.
Delivered by CareFlight's clinically current and experienced nurses and paramedics, the two-hour in-person Baby Emergency Course is available nationwide, taking a hands-on approach to training, teaching attendees how to react, and when you need more help.
The Baby Emergency Course costs $79 per person, or $149 for a couple. Children are not required to attend.
Support the roll-out: Every purchase of Nurofen for Children at Chemist Warehouse provides a 50-cent donation to CareFlight, making baby emergency training more accessible to parents.
Attend a course: Register your interest to attend a Baby Emergency Course by CareFlight in your area, by visiting www.careflight.org/babyemergencycourse